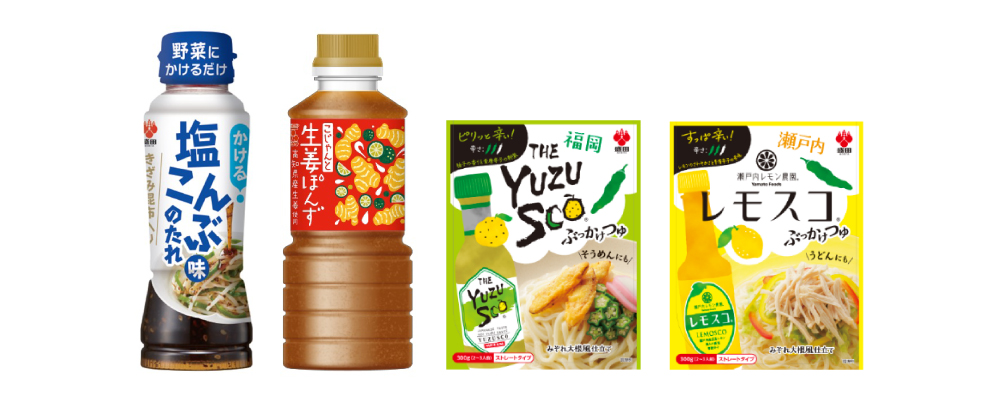 "MORITA" Kakeru Shio Konbu Aji no Tare (Salted Kelp Flavored Sauce) 
235g
Salted kelp, which is also used as a seasoning, has now become a liquid seasoning, and can be widely enjoyed on cut and boiled vegetables, egg dishes, soy products, and sashimi.
"MORITA" Kojanto Shoga Ponzu (Ginger Ponzu) 
360ml
This is a ponzu that can be used for dipping, pouring, or cooking with plenty of grated ginger from Kochi Prefecture. You can enjoy the aroma and moderate spiciness of Kochi ginger, and the elegant aroma and freshness of sudachi juice, a specialty of Tokushima Prefecture.
"MORITA" YUZUSCO Bukkake Tsuyu (Yuzu Flavoured Soup) 
300g
This is a straight type of men-tsuyu that combines Japanese soup stock made from bonito and kelp with YUZUSCO, a liquid yuzu pepper from Fukuoka.
YUZUSCO is characterized by its fresh yuzu aroma and tangy flavor. (This product is only available in spring and summer)
"MORITA" Lemosco Bukkake Tsuyu (Lemon Flavoured Soup) 
300g
This is a straight type of bukkake dipping sauce made by combining Japanese soup stock of bonito and kombu with "Lemosco" made from the peel of Hiroshima lemons from the Setouchi area.
You can taste the fresh aroma and sourness of the lemon and the spicy taste of green pepper. (This product is only available in spring and summer)