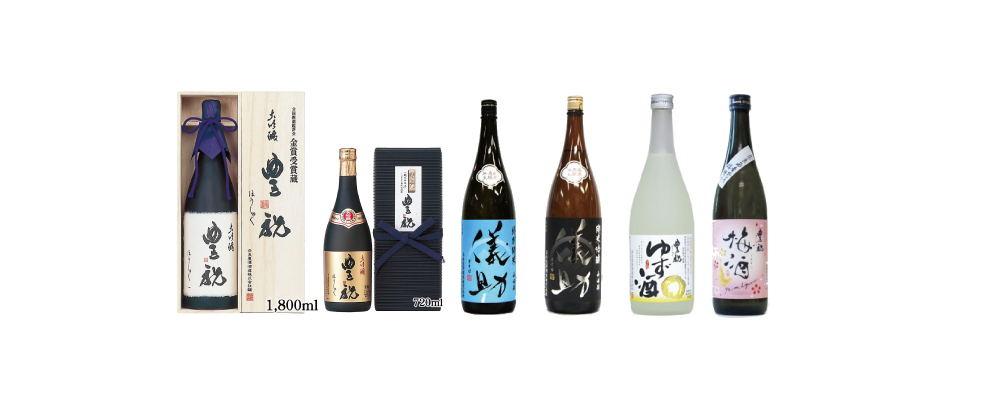 Daiginjo Hoshuku 1800 ml, 720 ml
Sake made with unique brewing method. The balance between gorgeous aroma and rich taste is exquisite. Yamada Nishiki is milled up to 35% seimabuai (65% of grain milled away).
This daiginjo has rich flavor and aroma, which is maximized by long-term low temperature fermentation.  It goes well not only with Japanese dishes, but is also a great match to Western food such as steak.
Gisuke Tokubetsu Junmai Non-filtered Raw Sake 1800ml, 720ml
The hint of apple give this sake a juicy and fresh flavor which spreads in the mouth. It has a gentle sweetness but there is also an elegant acidity bringing out the sharp note.
Gisuke Junmai Ginjo Non-filtered Raw Sake 1800ml, 720ml
Fruity scent reminiscent of melon, elegant sweetness and refreshing taste. Beauty and transparency spreads in your mouth, inviting you to a comfortable lingering finish.
Umeshu 1800 ml, 720 ml
A refreshingly sweet liquor with pickled plum fruit in junmai sake. The plum fruits from Nishiyoshino in Nara are steeped in sake for about 1 year. A well-balanced Japanese sake-based plum wine with exquisite sweetness and flavor of premium sake. Enjoy it chilled or on the rocks.
Yuzushu 1800 ml, 720 ml
The refreshing taste of yuzu and the right amount of sweetness . Blend of junmaishu with raw yuzu juice produced in Kochi prefecture. Enjoy refreshing sweetness and the tangy taste of citrus.