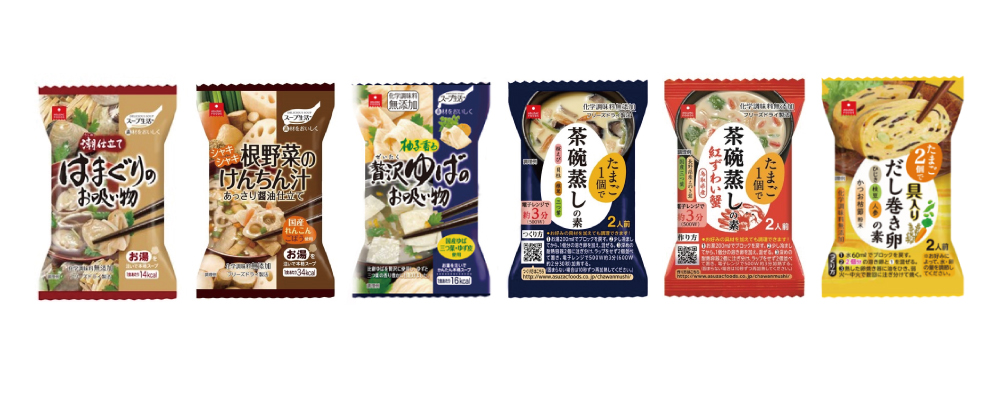 Soup Life Hamaguri (Clam) Soup
Seafood style soup made with large clams and rich dashi soup stock. Finishing touches of mitsuba (Japanese parsley) and fu (dry baked wheat gluten).
Soup Life Kenchinjiru with Root Vegetables
Ago dashi base soup (dried flying fish) with sesame oil and soy sauce. Made with renkon (lotus root) and burdock root which have crispy texture.
Soup Life Deluxe Yuba Soup
Just like the soup from ryotei (luxurious traditional Japanese restaurant). High quality Hiei Yuba and yuzu skin with mitsuba results in a luxuriously rich flavor.
Chawan Mushi Mix
Just by adding 1 egg and heating up in a microwave, you can enjoy delicious chawan mushi. Umami of dashi soup stock with topping ingredients such as Sakura shrimps, scallops, shiitake mushrooms and mitsuba.
Chawan Mushi Mix Beni Zuwai Gani (Red Snow Crab)
New product in Chawan Mushi series! Red snow crab from Tottori, enoki mushrooms from Nagano Prefecture, and mitsuba. The fragrant snow crab creates a refined taste.
Dashimaki Tamago (Rolled Omelette) Mix 
Made with Hijiki seaweed, edamame and carrot, flavored with katsuo bushi. Easy to make just by adding 2 eggs and frying in the pan.