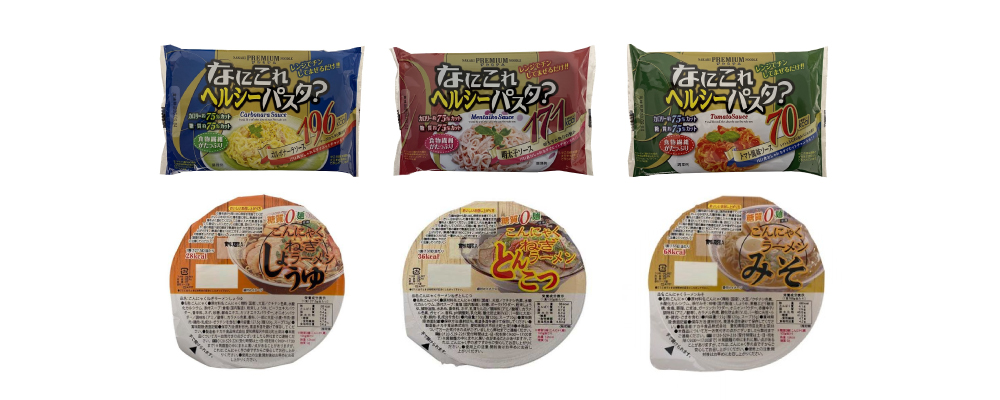 Nani Kore Healthy Pasta Carbonara 167g
Nani Kore Healthy Pasta With Mentaiko Sauce 167g
Nani Kore Healthy Pasta Tomato Flavor Sauce 167g
Healthy pasta without the characteristic smell of konjac and with a texture similar to wheat noodles!
Pasta is a high-calorie food that dieters have to resist eating. A long-established manufacturer of konjac has turned such pasta into a low-calorie, low-sugar, and delicious food. The calorie count per serving is about 70kcal for the tomato sauce flavor, about 196kcal for the carbonara flavor, and about 171kcal for the mentaiko sauce flavour. You can enjoy this product even on a diet. Just by replacing one meal out of breakfast, lunch, and dinner with "Nani Kore Pasta," you can reduce your daily intake of calories and carbohydrates.
Konnyaku Negi Ramen Shoyu 127.5g
Konnyaku Ramen Miso 155g
Konnyaku Negi Ramen Tonkotsu 130g
These noodles are made from soybeans and konjac. Due to the special manufacturing method, the smell peculiar to konjac disappears by simply washing in water, making it delicious.
Due to the characteristics of konjac, the noodles do not sag and do not stretch, so you can enjoy the firm texture.
Low in calories, it is ideal for preventing metabolic syndrome! Topped with vegetables of your choice, it is even healthier!