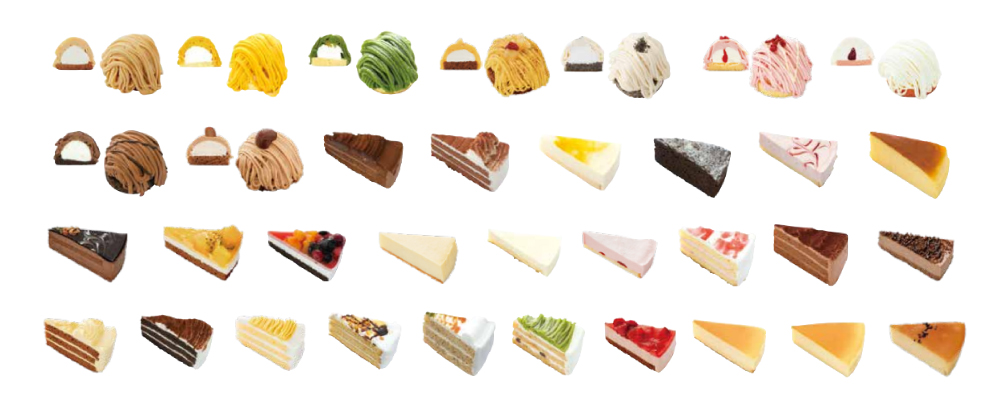 Mont Blanc
Japanese Chestnut Mont Blanc
Japanese chestnuts are used in this Mont Blanc. You can fully enjoy the mild flavor and gentle sweetness of Japanese chestnuts.
Ryo-omoi Mont Blanc
This Mont-Blanc is made with pumpkins grown in Hokkaido. It is a popular vegetable sweet with vivid colors.
Yame Matcha Mont Blanc
Cream blended with matcha green tea from the Yame region of Fukuoka Prefecture, the birthplace of tea, is filled to the brim. The center is filled with sweetened chestnuts.
Satsuma-imo and Wasanbon Mont Blanc
A rich cream with butter kneaded into a paste of sweet potatoes from Kagoshima Prefecture. The elegantly sweet wasanbon is used to give it a deep flavor.
Sesame Soy Milk Mont Blanc
A sponge filled with baked sesame seeds is topped with milky soy milk whip and a deep rich soy milk and white chocolate cream. It is a smooth and satisfying soy milk sweet.
Fukuoka Amao Strawberry Mont Blanc
This Mont-Blanc makes the most of the sweet and sour taste of Fukuoka's Amaou strawberries. The white chocolate and dried raspberries on the top give it a lovely appearance.
Three Kinds of Cheese Mont Blanc
Three kinds of cheeses (cream cheese, mascarpone, and cheddar) are used to make a rich cheese cream that is as smooth as a rare cheese cake. It is a refreshing Mont-Blanc accented with a berry sauce that melts from inside.
Raw Chocolate Mont Blanc
A rich Mont-Blanc made with popular raw chocolate. The crispy chocolate topping is a perfect accent.
Marron Mont Blanc
A blend of Italian chestnut paste in both the center and outer cream. The aroma of the liquor and the chestnut topping on the top give it a luxurious feel.
No. 7 Cake (12 Cut)
Pure Chocolat
Sandwiched with chocolate sauce for an even more delicious renewal. The cocoa sponge is coated with chocolate whip with added liquor and filled with rich raw chocolate.
Tiramisu Cafe
Cocoa sponge soaked in bittersweet coffee syrup, sandwiched and coated with tiramisu-style cream. Finished with a sprinkle of chocolate powder.
Hyuganatsu Rare Cheese Cake
A plain sponge cake is layered with a rare cheese batter made with Hyuganatsu from Miyazaki Prefecture, and the top is filled with a sauce containing Hyuganatsu pulp. It has a refreshing aroma and a light sweetness.
Gateau Au Chocolat
Dark chocolate with a rich cocoa flavor is used to make this cake very satisfying to eat. The taste is suitable for people of all ages.
Amao Rare Cheese Cake
A plain sponge cake layered with a refreshing rare cheese made with pureed Fukuoka-grown Amao strawberries, and finished with an Amao sauce for a gorgeous color.
Souffle Cheese Cake
A combination of plain sponge and soufflé batter with a mild cheese flavor, coated with slightly sour apricot jam for a gentle taste.
Classic Chocolates
A rich chocolate mousse cake made with Belgian chocolate. The top surface is glazed with chocolate glaze and white chocolate, giving it a luxurious feel.
Mango Mousse
Rare cheese made with cream cheese from Hokkaido, layered with rich mango mousse. The generous topping of large mango dice is an eye-catching and refreshing addition to this cake.
Berry Berry Cake (Black)
Vanilla and strawberry mousse studded with four kinds of bright berries and yellow peaches. This fruit cake has a perfect balance of sweet and sour flavors.
New York Cheese Cake
A rich cheesecake made by pouring smooth cheese batter into cookie dough and baking it. Hokkaido fresh cream and vanilla seeds are added for a rich flavor.
No. 6 Cake (12 Cut)
Rare Cheese Cake
The richly flavored cream cheese is refreshingly enhanced with lemon juice to create a classic rare cheese cake.
Amao Strawberry Mousse
A mousse made with strawberries from Fukuoka Prefecture, topped with sweet and sour strawberries and raspberries. It is a dish packed with the taste of berries.
Strawberry Short
A plain sponge sandwich with strawberry cream. Topped with a strawberry sauce.
Raw Chocolate Cake
Cocoa sponge sandwiched and coated with a smooth cream made of raw chocolate and condensed milk. The topping is finished with cocoa powder.
Chocolat Cake
Cocoa sponge is filled with a smooth dark chocolate mousse and topped with cocoa cookie crunch and chocolate sauce, recommended for chocolate lovers.
Banana Cake
Smooth banana cream blended with custard and accented with caramel sauce. The contrast between the banana cream and the cocoa sponge is eye-catching.
Hazelnut & Mocha
Black cocoa sponge sandwiched with coffee cream and coated with hazelnut cream.
Mont Blanc
A simple base of plain sponge sandwiched with whipped cream and topped with marron cream. The secret flavor of rum gives it a rich aroma.
Caramel Nut Short
Caramel flavored sponge sandwiched with caramel whipped topping. Topped with almond slices and candied almonds, and finished with chocolate glaze.
Milk Tea Short
Earl Grey tea sponge and Earl Grey flavored sandwich cream, coated with whipped cream. The aroma of Earl Grey spreads through this product.
Matcha and Kinako Cake
Kinako (soybean flour) sponge sandwiched with whipped cream and Hokkaido azuki beans, and filled with green tea cream. This is a dish with a sense of harmony.
Strawberry & Raspberry Mousse
Strawberry & Raspberry Mousse is made with strawberries from Fukuoka Prefecture and topped with sweet and sour strawberries and raspberries. This is a dish packed with the deliciousness of berries.
Baked Cheese Cake
A rich cheese batter made with plenty of cream cheese, baked slowly in hot water. A long-selling product.
No. 6 Cake (8 Cut)
Baked Cheese Cake
Baked with plenty of rich cream cheese and baked slowly in hot water to a golden brown. A long-selling product.
Sweet Potato Cheese Cake
The baked cheese dough is kneaded with Kagoshima's Beniharu sweet potato paste. Topped with caramel flavored sauce and black sesame seeds, this cake is perfect for autumn.