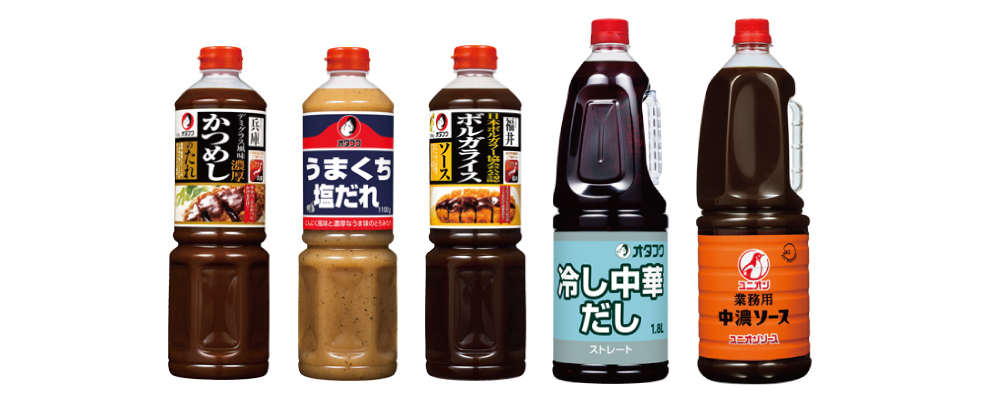 Katsu Meshi no Tare 1150g
Sauce for katsu meshi. Katsu meshi is a comfort food of Kakogawa city in Hyogo prefecture. It is a side of deep-fried beef cutlet covered in a demi-glace sauce served with a side of rice. This demi-glace sauce resembles gravy and is rich in umami of tomatoes, apples and onion.
Umakuchi Shio Dare 1100g
It is a savory dipping sauce with garlic flavor and rich umami. The fragrance of sesame oil and coarse ground black pepper is addicting. It is moderately thickened to prevent dripping.
Volga Rice Sauce 1200g
This sauce was developed jointly with Japan Volga Rice Association. Volga Rice has been served in the Takefu area of Echizen City, Fukui since the old days, and consists of fried rice topped with an omelet, crumbed pork cutlet and covered in a rich sauce. It is a sweet, demiglace-like sauce with richness of gravy sauce rich and umami of tomato. You can also use it for various dishes such as omelet rice.
Hiyashi Chuka Dashi 1.8L
Sauce for Hiyashi Chuka (Cold Ramen). Soy sauce based dressing with acidity of vinegar and sweetness of sugar, finished with fragrant with sesame oil. You can use it straight.
Union Gyomu Yo Chuno Sauce 1.8L
Chuno sauce is a mixture of tonkatsu sauce and the classical Worcestershire sauce with a mix of tanginess and fruity sweetness.  This sauce does not use starch or thickeners, the thickness comes out naturally from the fibers of vegetables and fruits. Meets the standards of Japanese Agricultural Standard.