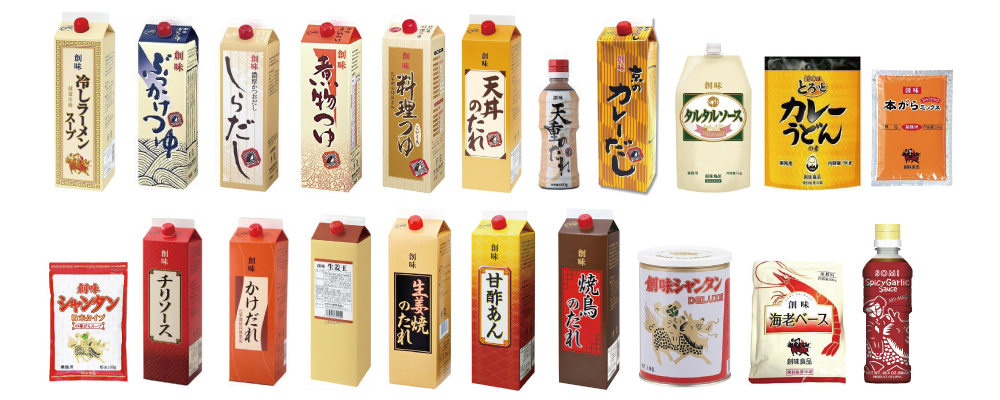 HIYASHI RAMEN SOUP 1.8 L
Based on the carefully selected beef soup, this cold ramen soup is well balanced with brewed soy sauce and variety of seasonings, etc. It is a very refreshing soup, so you can use it for Korean cold noodle soup.
BUKKAKE TSUYU 1.8 L
High quality soup stock from dried bonito flakes and konbu seaweed. Rich and elegant flavor.
SHIRADASHI 1.8 L
Bonito dashi with carefully selected ingredients such as konbu extract. Rich umami flavor.
NIMONO TSUYU 1.8 L
Soup for simmering which uses plenty of dashi of dried bonito.
RYORI TSUYU 1.8 L
This sauce is made with only brewed soy sauce, bonito dashi from Makurazaki, sugar, mirin and sake. No added chemical seasonings.
TENDON NO TARE 2KG
Carefully selected brewed soy sauce is blended with tamari soy sauce and whole soybean soy sauce. With added umami of bonito and shrimp, this sauce is rich and well balanced.
TENJU NO TARE 600G
Umami of bonito and shrimp makes this sauce well balanced. It has a moderate viscosity which prevents dripping off even after a long time. It also has a glossy finish.
KYO NO CURRY DASHI 1.8 L
It is a Kyoto style curry soup which results in rich flavor by combining ichiban (first) dashi from bonito.
TARTAR SAUCE 1KG
It is a creamy tartar sauce with carefully blended onion and plenty of pickles, made with company's proprietary manufacturing method. By adding mustard as a secret ingredient, the sauce acquires a deeper flavor.
TOROTTO CURRY UDON NO MOTO 1KG
With carefully selected curry roux, this flavorful rich curry udon base blends pork extract and vegetable extract in a balanced manner. By adding rich dashi as a secret ingredient, it results in rich and deep flavor.
SHANTUNG POWDERED SOUP STOCK 500G
Chinese style powdered soup that can be used for a variety of dishes such as ramen, happosai, Chinese soup, gyoza, and stir-fry.
CHILI SAUCE 2KG
Tomato based Chinese style chili sauce with plenty of spicy vegetables such as garlic, onion and ginger. Good balance of sweet, sour and spicy flavors. You can use it for ebi chili, crab, squid and other seafood. It also goes well with chicken and pork.
KAKE DARE 2KG
Harmony of sweetness and sourness, made without adding any chemical seasonings, it is a moderately viscous sauce. In addition to teriyaki, yakitori, meat dumplings, it also goes well with a variety of fried foods.
SHOGA O 2KG
It is shogayaki sauce with carefully selected granulated ginger.
SHOGAYAKI NO TARE 2.2KG
Brewed soy sauce based shogayaki sauce with fresh ginger blended with fermented seasonings and condiments.
AMAZU AN 2KG
Amazu (sweetened vinegar) sauce made by mixing apple cider vinegar, black vinegar, and tomato ketchup in a well-balanced manner, with a refreshing and rich acidity and moderate sweetness. You can use it for meat dumplings, fried seafood, tempura etc.
YAKITORI NO TARE 2KG
Brewed soy sauce, sanonto (caramelized sugar) and apples are blended in a well-balanced manner which results in a rich taste yakitori sauce.
SHANTUNG DELUXE 1KG
Shantung is a Chinese luxury soup. It is based on soup broth essential for Chinese cuisine and selected several 20 kinds of high-grade oils, onions, garlic, spices, and paste  Chinese soup. Use it for ramen soup, dumplings, fried rice, happosai, curry and other Chinese or Western dishes. It is basic soup that can be used for many kinds of dishes.
EBI BASE 500G
Carefully selected amaebi heads fried by using a special method. You can use it for a wide variety of cuisines such as Japanese, Western, Chinese or Ethnic.
HON GARA MIX 500G
Chicken broth with carefully selected chicken and pork bones; rich and flavorful.
SPICY GARLIC SAUCE 580G
Somi Spicy Garlic Sauce is a combination of well blended ripened chili and garlic. An excellent choice for dipping and stir-frying.
No MSG / No Animal Product